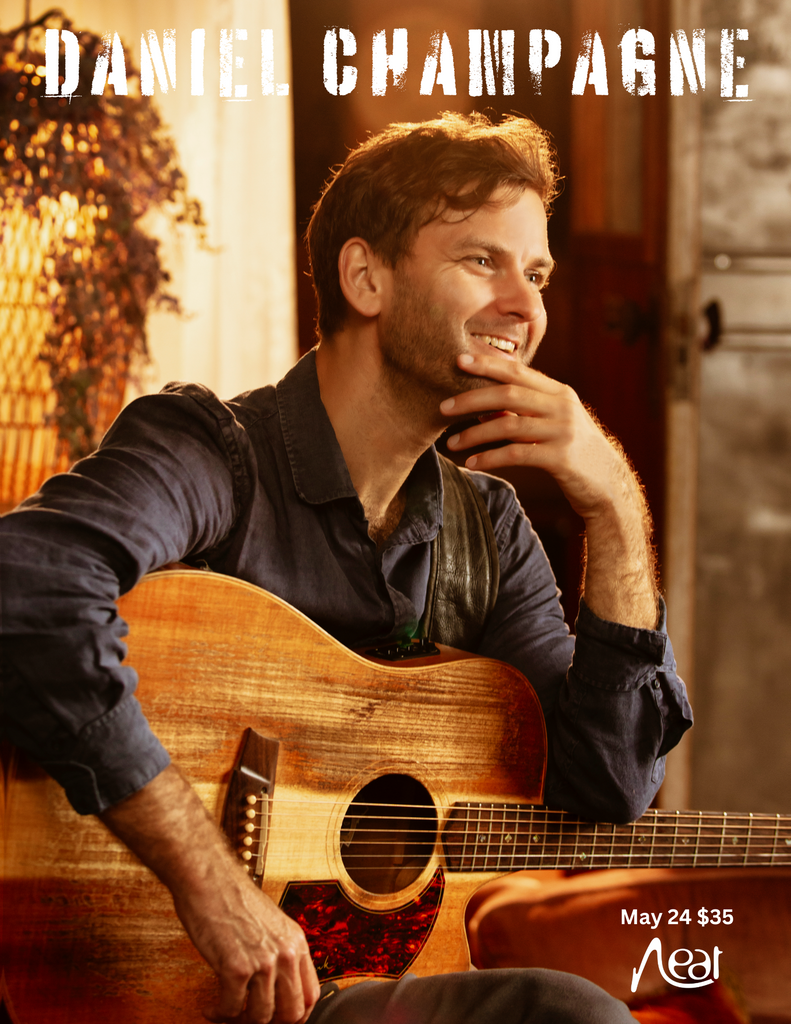 Daniel Champagne May 24 $35
May 24 2024 $35      8:00PM START
Dinner is not included with ticket price.
We have limited dinner reservations with staggered ordering times between 5:30 and 6:45.
All of our guests that choose "ticket with dinner reservation" are welcome anytime after 5:30 on show nights.
On show nights our regular menu is not available. Our kitchen serves our wood fired pizza's along with homemade show night specials between the times of 5:30 and 6:45 so you are welcome anytime during this timeframe.  If you are interested in the back end specials it is always wise to show up at 6pm or before since they tend to sell out first.
When fully booked the dinner option will not be available in the show night selection box. Guests choosing the "ticket only" option are welcome anytime after 7:00.  Please contact us if you have any questions.
neatmusicandcoffee@gmail.com
613-433-9960 
Come have fun at Neat!
PLAY VIDEO - THAT'S WHY I STILL CHASE THE SKY
Daniel Champagne

DANIEL CHAMPAGNE (AUSTRALIA) ANNOUNCES CANADIAN SPRING TOUR 2024 
Daniel Champagne lives and breathes live music. The Australian virtuoso has been described as "the finest guitar player of this generation", "a leading light in acoustic music" and "a performer that must be seen to be believed" and from March to June 2024, music lovers across Canada will be treated to an intimate live experience not to be missed!
Growing up in the Bega Valley, on the Far South Coast of New South Wales Australia, the story goes that the young singer-songwriter and one of a kind guitar virtuoso first picked up his instrument of choice as a 5-year-old following in the footsteps of a musical father. He began writing songs at 12, training classically throughout his teens and performing wherever he could, honing his craft and developing the dynamite live show that he is renowned for today. At 18 he finished school, turned professional and hit the road without looking back.

The following 15 years have seen him independently release 7 studio albums, tour relentlessly around the globe, play some of the biggest festivals under the sun and share stages with the likes of Tommy Emmanuel, INXS, John Butler, Lucinda Williams, Ani DiFranco, Judy Collins and Rodrigo y Gabriela.

Playing upwards of 250 shows a year, Daniel is passionate about spreading live music around the world and on the back of a sold out 2022 tour tour, his return trip will include 56 shows from Vancouver Island all the way out to Newfoundland! 

WHAT THE PRESS SAY..

"The word Prodigy seems to entirely fall short of this soft-spoken young man's skills, he coaxes sounds and melodies out of his instrument that literally drop jaws." The Calgary Herald, CANADA
"Today I saw the future of Folk – Festival goers flocking in the thousands towards the main stage to witness a young musical phenomenon from Australia dish out an absolute show-stopper." The Firefly Column, USA

"Daniel Champagne is a crossroads. Fusing the strong traditions of Blues, Folk and other roots art with pop showmanship and admirable lyrical ability. I firmly believe that he will become an ambassador for roots music in a time where it desperately needs representation." The Indie Blender, CANADA

"reinventing roots guitar" Rhythms Magazine, AUSTRALIA

"Watching Daniel Champagne perform is a once in a lifetime experience. He is a true prodigy that plays like no one else could possibly play unless they spent at least two lifetimes studying the art." BW Review, NEW ZEALAND

"Daniel Champagne exudes a natural ease on stage, as he sings poignant lyrics and beautifully crafted melodies that invariably whisk the heart up with grand romanticism. Coupled with an exhilarating guitar talent that transcends mere acoustic playing to replicate a whole band, Champagne is just magical" Themusic.com.au, AUSTRALIA

"You feel as if he just invented the instrument yesterday and was discovering its possibilities afresh" Ted Gioia (American jazz critic and music historian)